50th WEDDING ANNIVERSARY PHOTOS

MEMBERS OF THE MHS CLASS OF 1951 ARE BEGINNING TO CELEBRATE THEIR GOLDEN WEDDING ANNIVERSARY. LOCAL AREA CLASSMATES WHOSE ANNOUNCEMENTS WILL BE IN THE MIDDLETOWN JOURNAL, WE WILL SCAN THESE PICTURES AND PLACE THEM ON THIS PAGE.

OUT OF TOWN CLASSMATES CELEBRATING 50 YEARS OF MARRIAGE, PLEASE SEND AN ATTACHMENT VIA E-MAIL OR SEND BY REGULAR MAIL YOUR INFORMATION AND PICTURE IF YOU WOULD LIKE IT POSTED TO THIS SITE.

WHEN WE POST YOUR PHOTO USING THE PHOTO FROM THE JOURNAL , AND YOU DO NOT WISH TO HAVE IT SHOWN ON THIS PAGE, NOTIFY THE WEBMASTER  AND WE WILL TAKE IT OFF.

OUT OF TOWNERS PLEASE MAIL TO MHS CLASS OF 1951 C/O JACK ROBINSON, 445 CAMBRIDGE DR. MIDDLETOWN, OH. 45042 OR E-MAIL TO JANJAC445@AOL.COM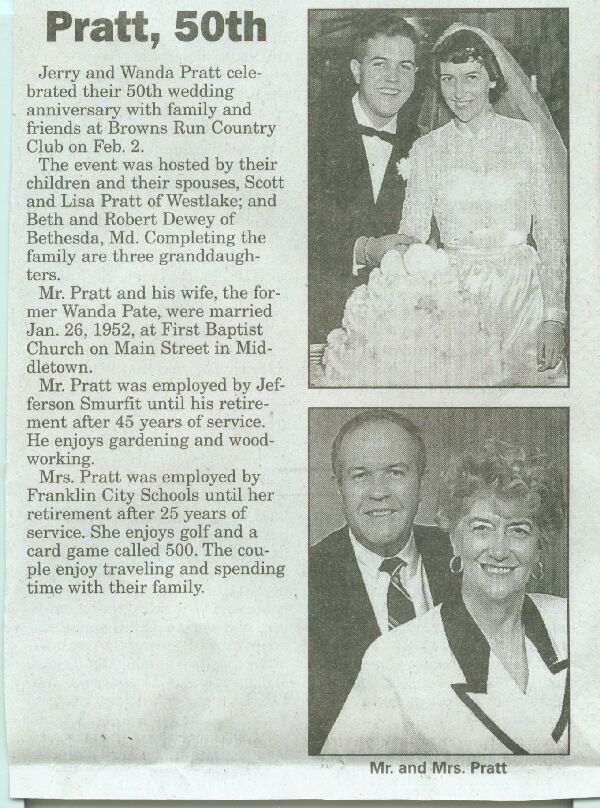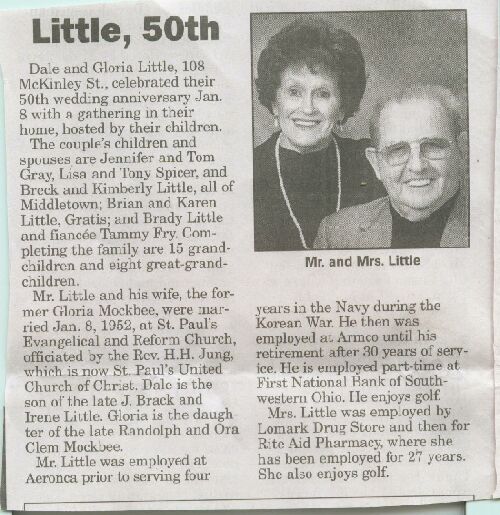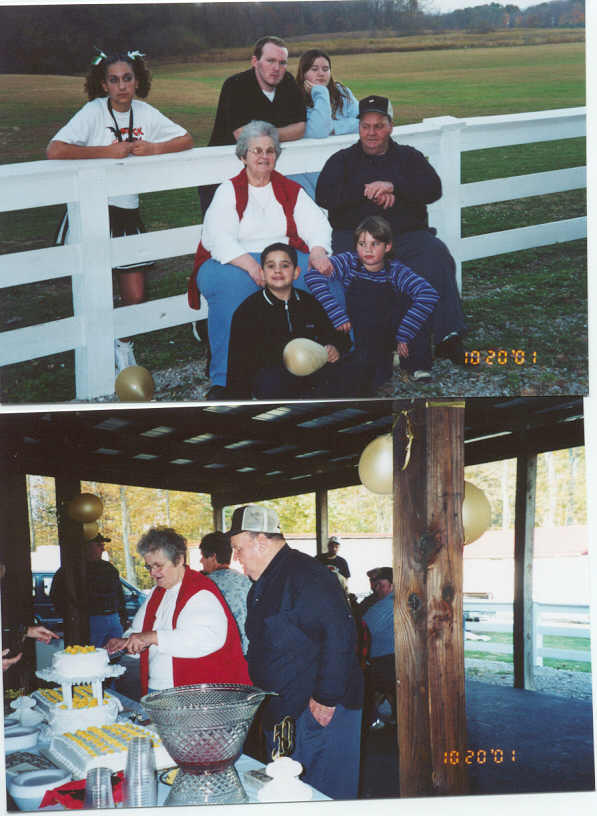 Below is Mary Lee Yenser Henderson, her husband Bud Henderson, and 5 of their 9 grandchildren. Mary and Bud celebrated their 50th anniversary on Oct 20, 2001. Mary tells us they have 4 great grandchildren, 4 sons and 3 daughter-in-laws. Bud and Mary celebrated their Golden Anniversary with a pig roast, and country western music party hosted by their children . Mary and Bud currently reside in Hillsboro, Ohio.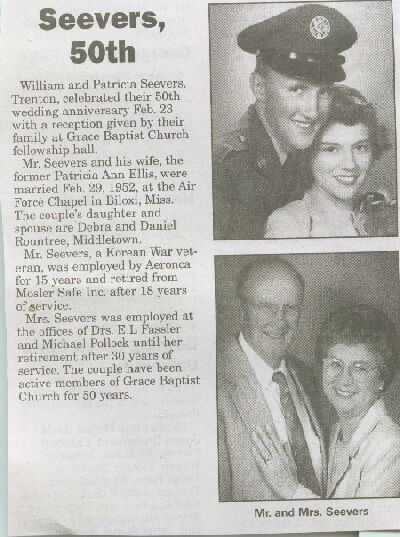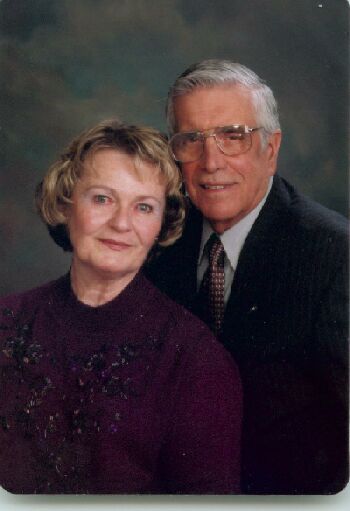 Mr. and Mrs. George K. Strodtbeck celebrated their 50th wedding anniversary on Feb 16 at the Glass Chimney in Indianapolis. Family and friends attended.

George and Janet were married Febuary 16, 1952 at the First Baptist Chuch in Middletown, Ohio.

The former Janet Sebald, Mrs. Strodtbeck is the daughter of the late Mr. and Mrs. C. Vorhis Sebald. She is a homemaker.

Mr. Strodtbeck is the son of the late Mr. and Mrs. G. Kirk Strodtbeck. George is now retired.

Their children are; George K. Strodtbeck of Indianpolis, Victoria Truitt of Morristown, Robert V. Strodtbeck of Orlando Florida, and Sheri Lyn Vance of Carmel.

The couple have nine grandchildren.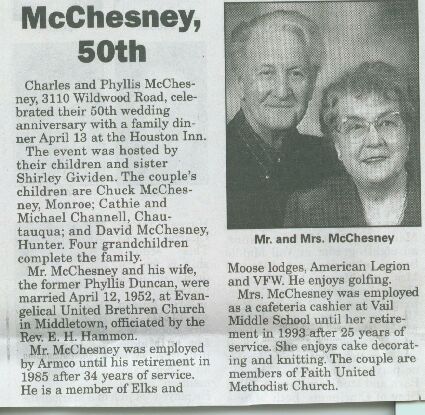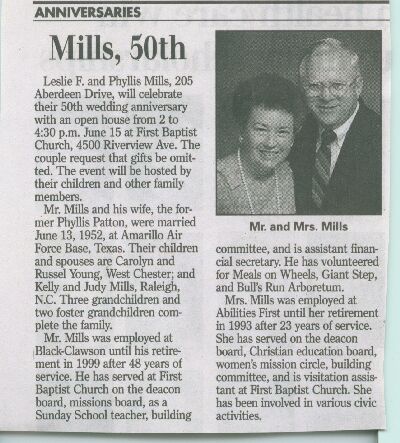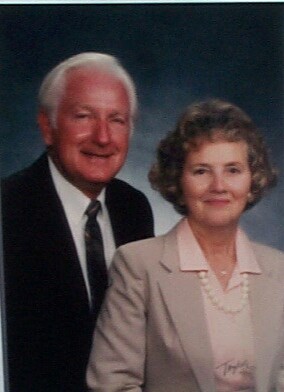 OUR CLASSMATE JOYCE MARLENE AUERBACH ROOT

AND HER HUSBAND, RAY ROOT

Ray and Joyce Marlene Auerbach Root, Reddington Calif., will be celebrating their 50th wedding anniversary with a dinner party August 10, 2002 at Mount Shasta Golf Resort in Mount Shasta Calif., hosted by family and friends. Joyce and Ray were married August 9, 1952 at First Methodist Church in Middletown. The couple's children are Michael, Steven, Christopher, John, and David Root. David is deceased. They have seven grandchildren and one great grandchild. Mr Root was employed until his retirement in 1992 by Simpson Paper Co., the Shasta Mill, Anderson, Calif.

Joyce is a homemaker and was previosly employed by Gardner Board and Carton.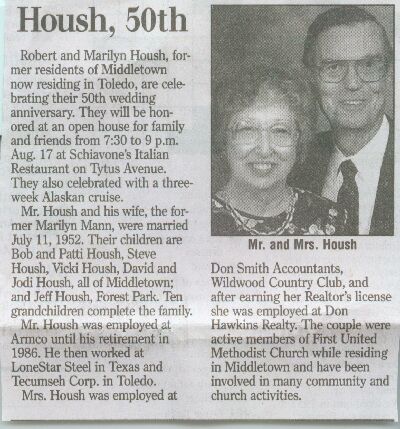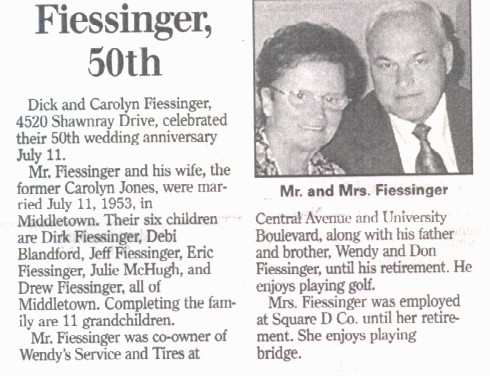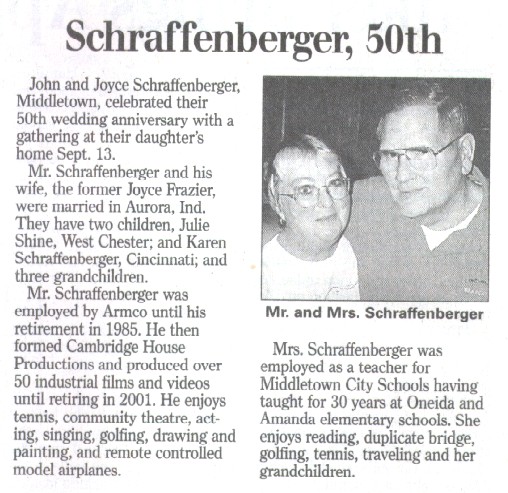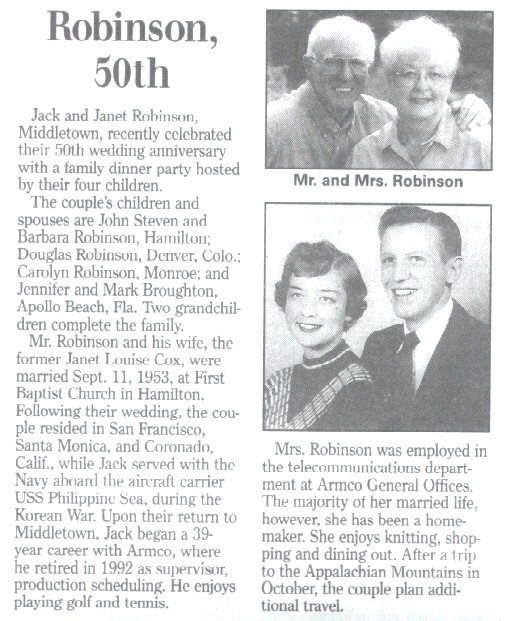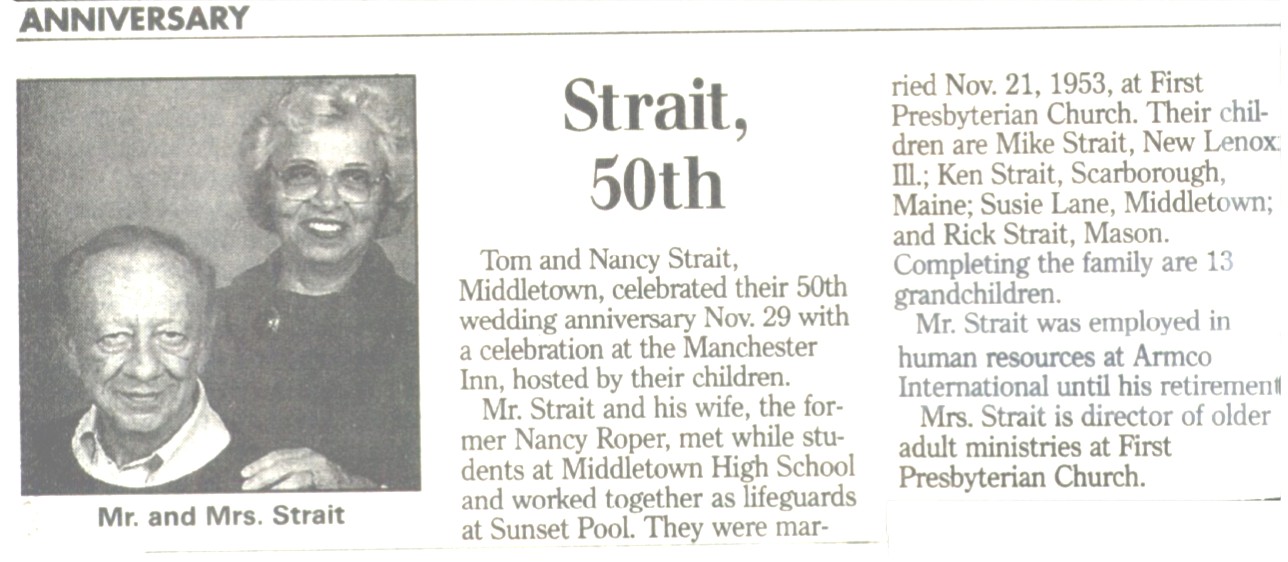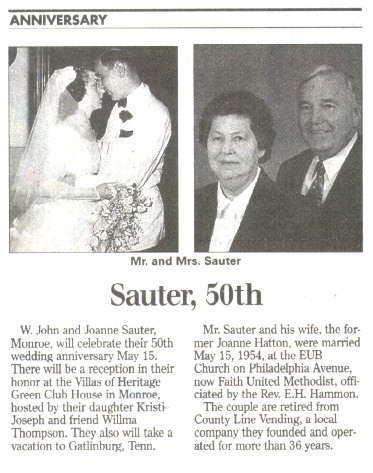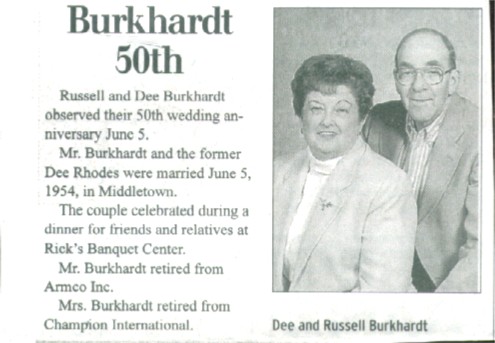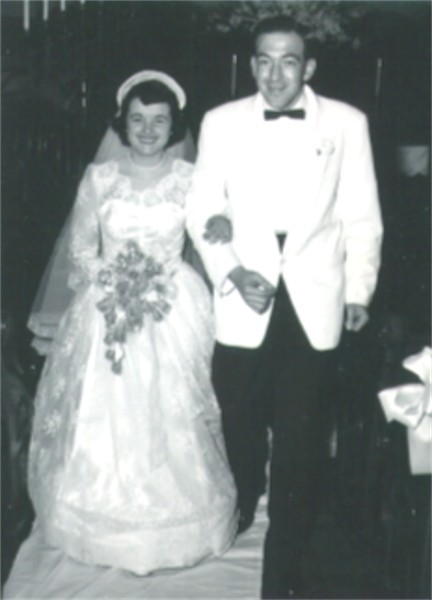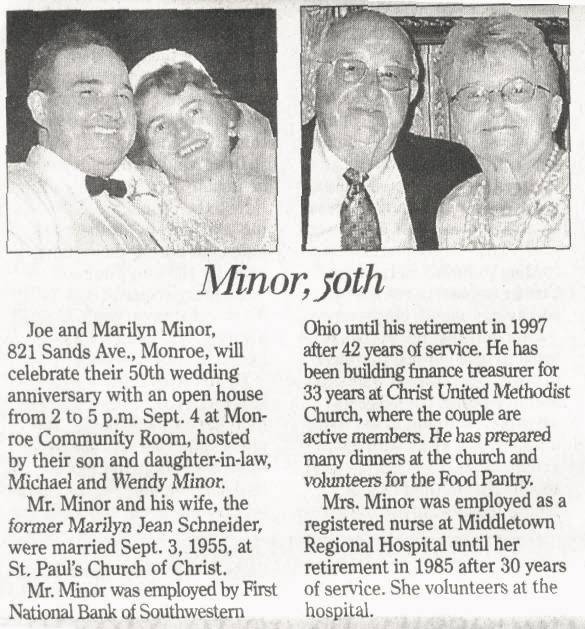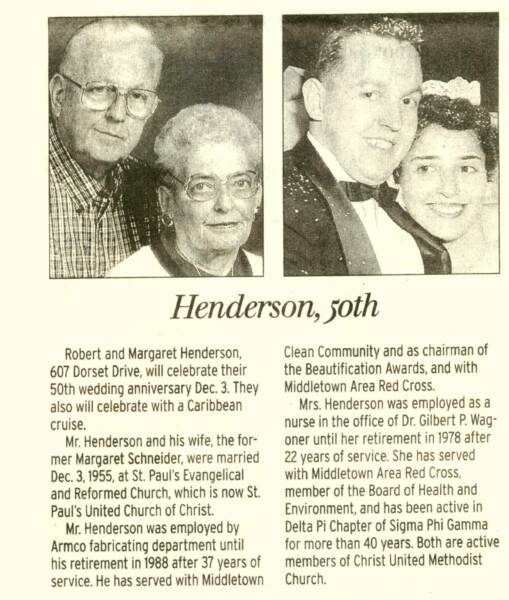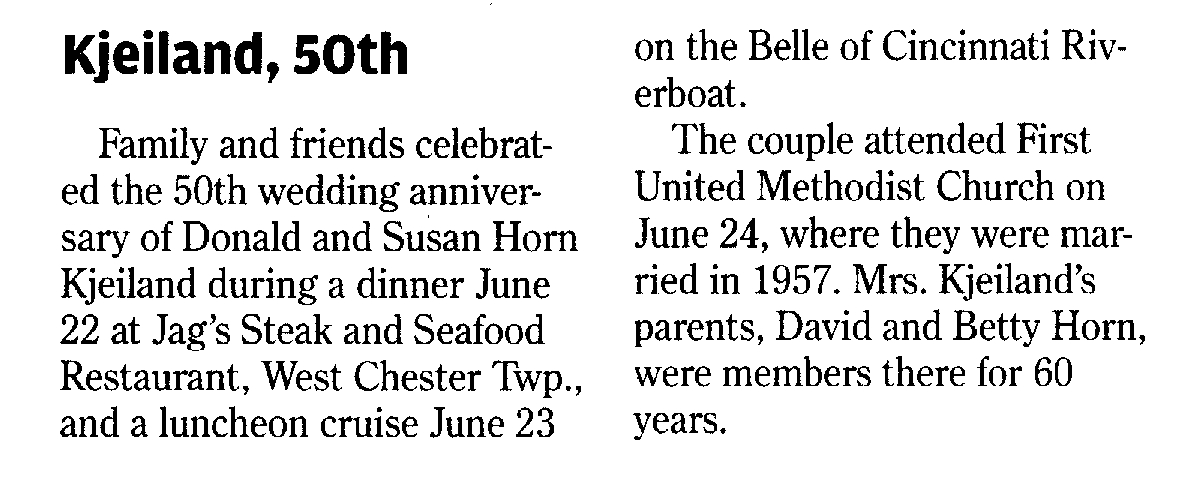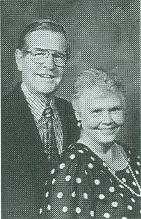 Susan (Horn) and Don Kjerland

Middletown Journal July 1, 2007

(Photo from Class of '51 45th Reunion)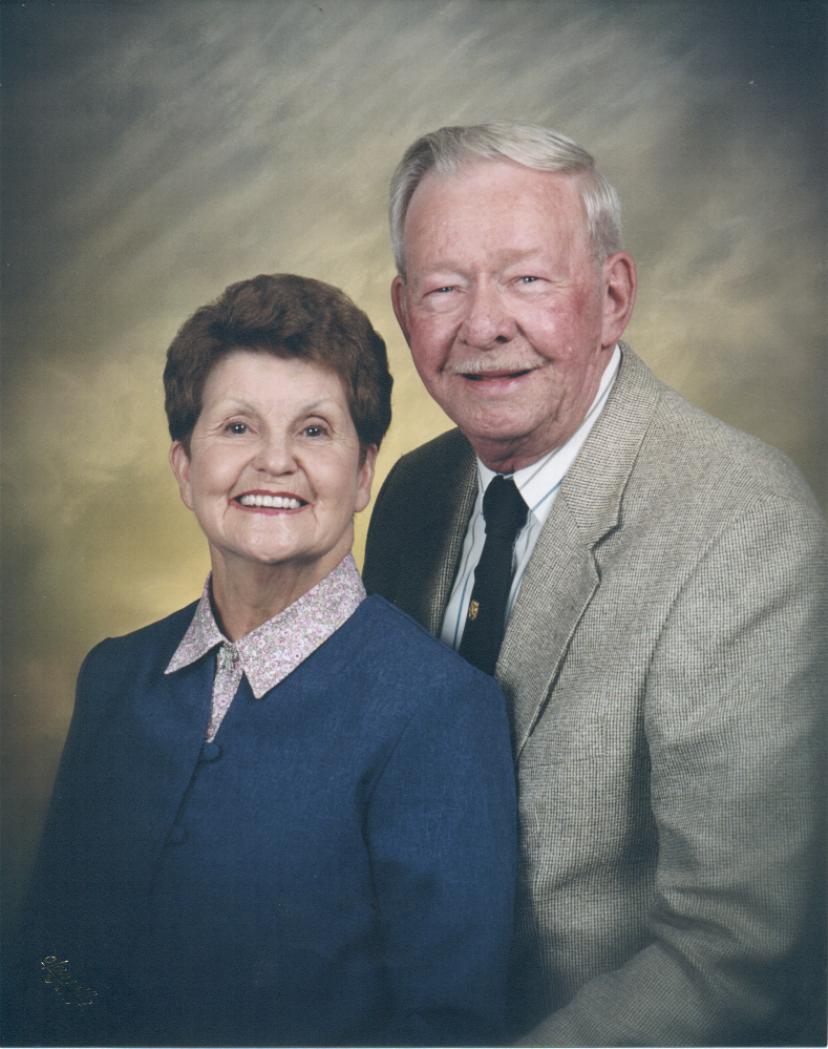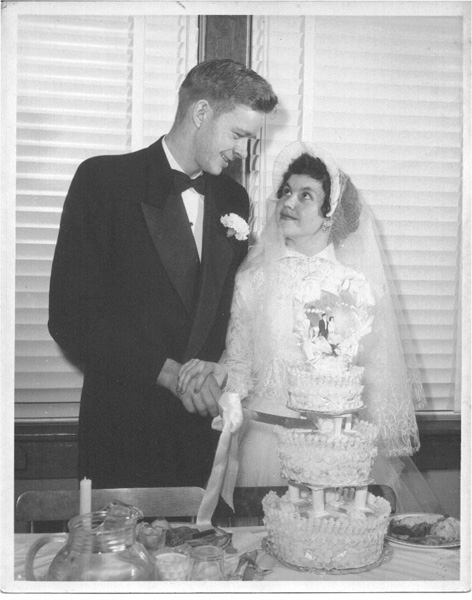 PORTSMOUTH -  Harold and Patricia (Connors) Murphy of 22 Sewall Road celebrated thweir 50th

wedding anniversary May 8, 2004 at a dinner party at Three Chimneys Inn in Durham hosted by

their children, Harold and Kathy Murphy of Hudson, James and Jennifer Murphy of Rochester,

Timothy Murphy of Berkeley, Calif, Dennis Murphy of Portsmouth and Debra and Steve Moore of

Gonic.  They also have six grandchildren.

They were married May 8, 1954, in St. Teresa Church in St. Johns, Newfoundland, Canada.  The

Rev. R.J. Green performed the ceremony.

Mr. Murphy retired from the U.S. Air Force after 26 years of service and from the Portsmouth

Naval Shipyard after 15 years of service.  Mrs. Murphy is a homemaker.

Gene and Patricia Murphy - 50th

22 Sewall Rd. Portsmouth, NH 03801