The above picture was taken July 17, 2008 at Mount Pleasant Retirement Village in Monroe, Ohio.  Mount Pleasant had just completed a new $1.5 million Chapel and the very first program presented in the new Chapel was billed as the "Gala in the Chapel". The Chapel was packed with over 200 Mount Pleasant residents and the organist was Martin Bevis.  

He played many Broadway show hits as well as many classical  pieces and old favorites from the fifties on the 4-manual organ, pictured above, which had just been donated to Mount Pleasant by a retired physician from Hamilton.  He played for well over an hour and it was all from memory as you can see he had no sheet music.  

Martin's introduction that evening included the following:

"Martin Bevis learned to play music at an early age on the pipe organs in Middletown's Strand and Paramount theaters.  By the age of 14, he was playing occasional weekend intermissions at the Paramount Theatre on a 3-manual, 14-rank Balton pipe organ.  In the years to follow, he entertained in restaurants, cocktail lounges and roller skating rinks and he also on radio stations WKRC, WPFB and WHIO."

"He returned to the theatre pipe organ scene in 1980 by joining the staff of organists of Cincinnati's Emery Theatre and Dayton's Victoria Theatre."

"Since 1980, he has played for music clubs, theatre organ groups and the American Guild of Organist groups from both Dayton and Cincinnati.  Additionally, he has been on the staff of organists at the Shady Nook Restaurant near Oxford for 18 years.  (This is the current location of the old WLW "Moon River" organ that we remember hearing in our high school days over WLW) 

As Martin says, "I play the music of the great composers of the 20th century, because that's when the great music was written"

                                          Gene Phillips M.D.

                          December 25, 1933 - November 28, 2009

Gene Marshall Phillips, M.D., Professor Emeritus, Pediatrics, Stanford University Medical Center appreciated the "Humanities of Life" to 

their fullest. Hallmarks were his unending love for life, his family, his "work of art" garden and house, exemplary care provided to his patients, his love for music which sustained him throughout his life's journey as evidenced in the "1955 at 50", and his expressed gratitude to Princeton. 

Gene died November 28, 2009 at home with his wife and son at his side.

 A private service followed. He was honored with other alma maters in

 a memorial service at Princeton University Chapel May 30, 2010.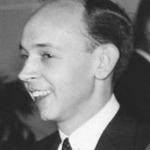 This page was last updated: December 27, 2014
Jim Myers had a very successful career as a consulting engineer after receiving his PhD in Metallurgical Engineering at Ohio State University. The following article appeared in the September issue of the Middletown Community Foundation "Connections" publication.  His achievements post high school graduation are commendable.  His achievements while attending MHS were stated incorrectly in one instance in this article.